Aaron Hernandez's Jailhouse Lover Ready to Tell All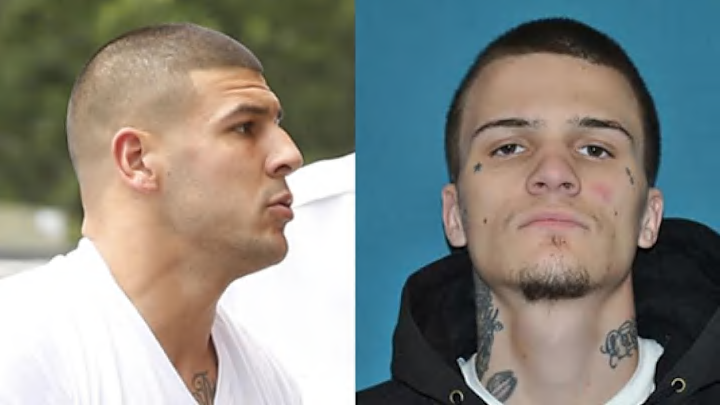 Aaron Hernandez's secret prison lover, Kyle Kennedy, who was the last person to see the NFL star alive, is set to address their relationship for the first time on TV on Sunday, July 5.
"That was my right-hand man. We used to do everything together," Kennedy says in the upcoming REELZ special Aaron Hernandez: Jailhouse Lover Tells All. "To this day, I tell people he's the most loyalist person I've ever met."
The Souza-Baranowski Correctional Center inmate claims his relationship with the late New England Patriots tight end turned sexual soon after Hernandez arrived at the facility to serve his life sentence for the murder of his friend Odin Lloyd.
"[We had sex] once or twice a week, whenever there was a good opportunity," Kennedy alleges in the special, which was filmed inside the prison.
Hernandez's fiancée, Shayanna Jenkins, however, has stated that she "saw no indication" that he was gay or bisexual.
RELATED: Meet AZ Cardinals Receiver Christian Kirk's Girlfriend Ozzy Ozkan
Hernandez died by suicide in his prison cell in April 2017. He was 27.
Aaron Hernandez: Jailhouse Lover Tells All premieres on REELZ Sunday, July 5, at 8 p.m. ET.
Got a story or tip for us? Email Sports Gossip editors at tips@sportsgossip.com
Want More From Sports Gossip?
For all the latest breaking Sports Gossip, be sure to follow SportsGossip.com on Facebook, Instagram, and Twitter.