Cubs turn MLB's First Triple play of 2020 Thanks to Umpire's Blown Call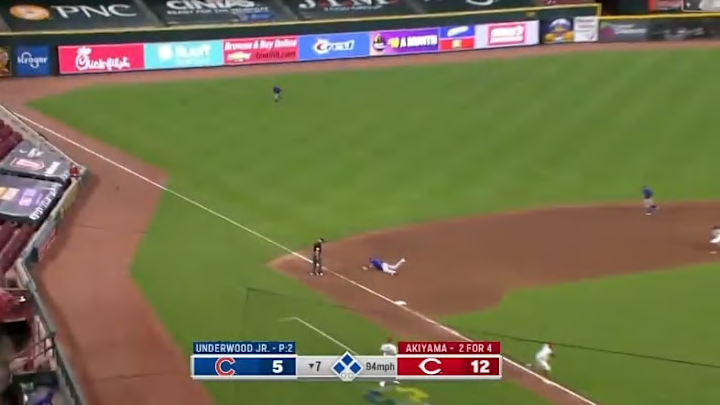 The first triple play of the 2020 MLB season is in the books.

The Chicago Cubs turned the first triple play of the abbreviated season Wednesday night when Reds catcher Shogo Akiyama lined out to Kris Bryant at third base with the bases loaded in the seventh inning. Bryant made the catch for the first out, stepped on third base to double up the runner for the second out, then threw to first base to double up the runner for the third out.

Here's the play:
The triple play was made possible by a blown call. Replays showed Bryant did not catch the ball in the air. It hit the dirt and bounced first which, of course, isn't an out. It should have been a double play when Bryant stepped on third to get the force out, and threw to first for another force out, but that's all.
"I should've just threw it to second and then he'd throw it to first and then it would've been four outs," Bryant joked after the game, according to MLB.com's Jordan Bastian. He added he was "convinced" he caught the ball before seeing the replay.

Believe it or not, that play is not reviewable
Got a story or tip for us? Email Sports Gossip editors at tips@sportsgossip.com
Want More From Sports Gossip?
For all the latest breaking Sports Gossip, be sure to follow SportsGossip.com on Facebook, Instagram, and Twitter.