Falcons' Gurley, Jarrett Push NFL on Social Justice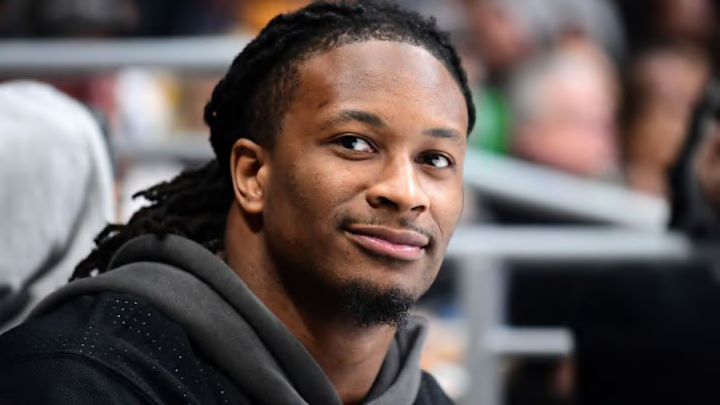 Atlanta Falcons players Todd Gurley and Grady Jarrett hope talking candidly about racial injustice will help promote change. But both Gurley and Jarrett are eager to continue to put action behind their words.

Speaking on an Instagram Live session Wednesday night hosted by Gurley and moderated by ESPN's Jalen Rose, Gurley and Jarrett participated in a discussion that addressed racial injustice; police brutality associated with the killing of George Floyd, Breonna Taylor and others; disparity in wealth based on race; the lack of diverse curricula in schools; the Black Lives Matter movement; and the importance of voting, along with many other issues.
Rose asked Gurley, the 2017 NFL Offensive Player of the Year with the Los Angeles Rams, whether his celebrity status has excluded him from experiencing racial injustice. Gurley responded, "Certainly not. At the end of the day, we're still Black men in America."

The running back proceeded to talk about how sorely the NFL needs change, considering the lack of minorities in high-power positions and the divide that still exists from when Colin Kaepernick protested racial injustice by taking a knee during the national anthem in 2016.
"Being in the NFL, seeing everything that we go through in the NFL, a lot still needs to be changed," Gurley said. "That's why we're trying to push up on the commissioner -- you know, the whole Colin Kaepernick situation with him not being able to be in the league -- there's still a lot that needs to be changed. "I feel like us players, as we've been coming together, dealing with the [coronavirus] pandemic and dealing with the George Floyd situation, there's still a strong move to push. But it's definitely a start. We've just got to keep pushing on, keep hounding the NFL to do better because it's a large organization. We need to be able to push the league to do more for the Black communities."
Gurley and Jarrett have been involved in the Atlanta community in an effort to inspire Black youth and promote racial equality.
Got a story or tip for us? Email Sports Gossip editors at tips@sportsgossip.com

Want More From Sports Gossip?

For all the latest breaking Sports Gossip, be sure to follow SportsGossip.com on Facebook, Instagram, and Twitter.