Khabib's Manager Attacks Conor McGregor Over Shock Post On His Dad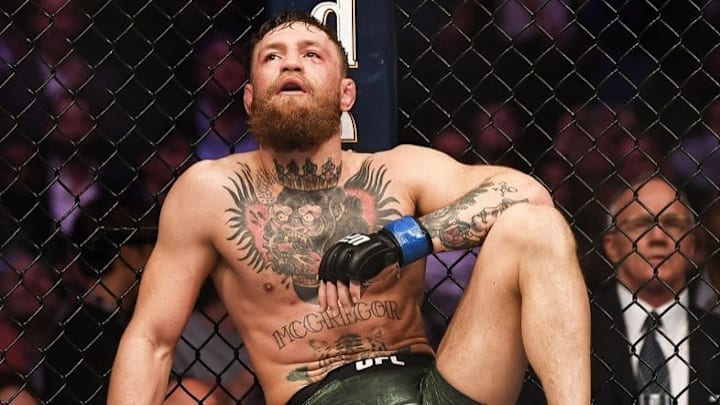 Khabib Nurmagomedov's manager has branded Conor McGregor the "lowest scum on this earth" after he made a startling claim about Abdulmanap Nurmagomedov's health.
RELATED: Conor McGregor Makes Wild Claim About Health of Khabib's Father
Khabib's father contracted coronavirus in May and his health took a turn for the worse after he suffered a stroke and was placed in a medically induced coma.
But McGregor took issue with Abdulmanap's nephew, Abubakar, after he trolled him in a social media post.

The 31-year-old Irishman astonishingly suggested that Abdulmanap's coronavirus was a "cover-up" for Khabib not returning to the octagon.

"I figured it was all just a cover up about Abdulmanap," McGregor wrote.

"A cover up to hide the lack of activity and the pulling out of fights and running away. Good luck but remember - Allah sees all!"
Khabib's manager, Ali Abdelaziz, took to Twitter and launched an all-out verbal attack on the retired Irish MMA star.
And he escalated his rivalry with McGregor by insisting that he 'really wants to spit in his face,' only to later delete his tweet from the platform.
Abdelaziz wrote:
@TheNotoriousMMA you're the lowest scum on this earth and I really want to spit in your face. Post something on Instagram and deleting in about someone's sick father. You're fake you punk."
Kamil Gadzhiev recently provided an update on Khabib's father's health status and claimed the "disease is receding."

The Russian MMA promoter explained: "I understand Khabib's father came to his senses. The disease is receding.

"From what I understand, Abdulmanap's health is improving. It's good news.

"I haven't heard of him getting up and walking, but he is definitely conscious. That's what I've heard from family friends and close relatives. The illness goes away. And that's a fact."
Conor may have retired from MMA, but he certainly hasn't retired from talking crap on social media.
Got a story or tip for us? Email Sports Gossip editors at tips@sportsgossip.com
Want More From Sports Gossip?
For all the latest breaking Sports Gossip, be sure to follow SportsGossip.com on Facebook, Instagram, and Twitter.