LeBron: BLM 'a Walk of Life,' Not Just Movement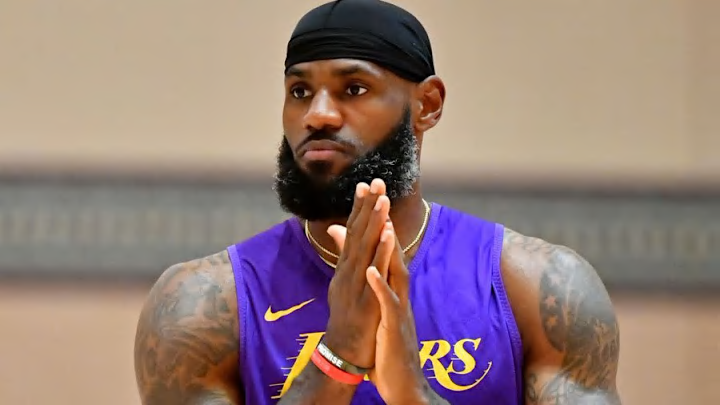 With the clock ticking under a minute before halftime in the Los Angeles Lakers' first scrimmage in Orlando, Florida, on Thursday, LeBron James zoomed past two defenders near midcourt to throw down a hammer dunk in transition.
As James split Jerry West's waistline while speeding through the massive NBA logo at the tipoff circle, TV viewers could see three words in block letters printed on the court on the top of their screens above him: "BLACK LIVES MATTER."
The phrase, which entered the public lexicon after George Zimmerman was acquitted for the murder of Trayvon Martin in 2013 and became the title of the social action that has been omnipresent in recent months following the killings of George Floyd, Ahmaud Arbery, Breonna Taylor and other Black Americans, is something that James says should be considered permanent, not passing.
"A lot of people kind of use this analogy, talking about Black Lives Matter as a movement. It's not a movement," James said after scoring 12 points in 15 minutes in the Lakers' 108-104 loss to the Dallas Mavericks. "When you're Black, it's not a movement. It's a lifestyle. We sit here and say it's a movement, and, OK, how long is this movement going to last? 'Don't stop the movement.' No, this is a walk of life. When you wake up and you're Black, that is what it is. It shouldn't be a movement. It should be a lifestyle. This is who we are. ...

"I don't like the word 'movement' because, unfortunately, in America and in society, there ain't been no damn movement for us. There ain't been no movement."
In this moment, James, 35, finds himself to be more than just a basketball player trying to push through aging legs and a global pandemic to stack another title on his Hall of Fame résumé.
Progress, in James' estimation, will start with communication and a willingness and urgency to understand one another.
Got a story or tip for us? Email Sports Gossip editors at tips@sportsgossip.com
Want More From Sports Gossip?
For all the latest breaking Sports Gossip, be sure to follow SportsGossip.com on Facebook, Instagram, and Twitter.