McCutchen Speech Drives Yanks-Nats Ceremony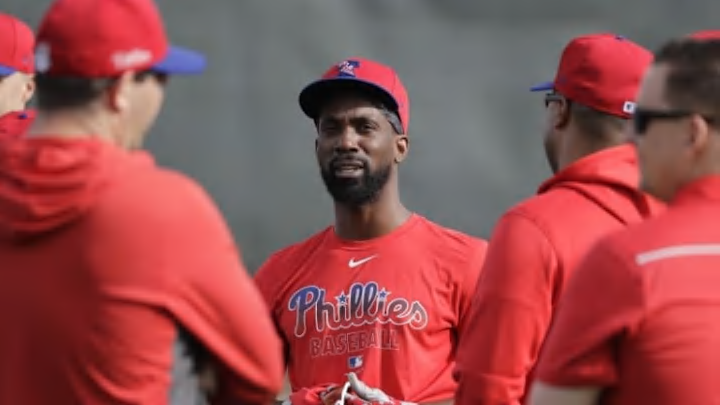 After he saw the video of a Minneapolis police officer killing George Floyd, Philadelphia Phillies outfielder Andrew McCutchen felt compelled to do something. His first instinct was to kneel during the national anthem when baseball returned to the field. Following a conversation with his wife, Maria, he decided on a different path.
At the season-opening game here Thursday night between the New York Yankees and Washington Nationals, players from both teams stood next to each other and held a long, black tapestry -- a socially distanced alternative, McCutchen said, to linking arms to show unity. Over the loudspeaker, actor Morgan Freeman read a speech written by McCutchen and Maria that began: "In order to achieve effective change and create a new canvas of optimism, empathy must lead the charge. This moment signifies our charge. Our brotherhood. Our unity. Equality and unity cannot be until there is empathy."
Players and coaches from both teams then took to one knee, with most bowing their heads. While all stood for the national anthem that played after, the message, McCutchen told ESPN earlier this week, was to acknowledge injustice not just in the United States, but everywhere, and illustrate that Major League Baseball, a league that has lagged in addressing social issues, can be a force for change.
Following conversations with The Players Alliance, a group of Black baseball players that includes McCutchen, the league offered players sleeve patches that read "Black Lives Matter" or "United For Change."
Got a story or tip for us? Email Sports Gossip editors at tips@sportsgossip.com
Want More From Sports Gossip?
For all the latest breaking Sports Gossip, be sure to follow SportsGossip.com on Facebook, Instagram, and Twitter.