Novak Djokovic's Parents Defend son While Blaming Grigor Dimitrov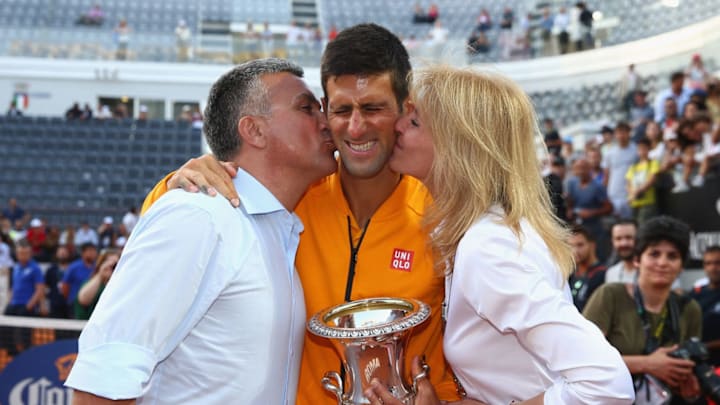 Novak Djokovic's parents defended their son on Wednesday and blamed another tennis player for spreading the coronavirus at a series of exhibition matches hosted by the top-ranked player.
Djokovic and his wife tested positive for the virus on Tuesday.
RELATED: Nick Kyrgios Slams Novak Djokovic After Covid-19 Diagnosis
The 17-time Grand Slam champion then apologized online for organizing the Adria Tour events, which brought together professional players from various countries to play matches in Serbia and Croatia.
Djokovic's father blamed the cancellation of the tour on Grigor Dimitrov one of three other players to test positive in the last few days. There is no evidence to suggest Dimitrov spread the virus to others.
"Why did it happen? Because that man probably came sick, who knows from where,'' Srdjan Djokovic told RTL Croatia TV. "He didn't test here, he tested somewhere else. ... I think that's not fair. "He inflicted damage to both Croatia and to us as a family in Serbia. Nobody is feeling well because of this situation."
Dimitrov, a three-time Grand Slam semifinalist from Bulgaria, was the first Adria Tour participant to test positive for the virus.
Jokic is reportedly recovering in his hometown of Sombor.

Djokovic's mother said both her son and his wife, Jelena, are feeling fine but are suffering because of the widespread criticism.
Got a story or tip for us? Email Sports Gossip editors at tips@sportsgossip.com
Want More From Sports Gossip?
For all the latest breaking Sports Gossip, be sure to follow SportsGossip.com on Facebook, Instagram, and Twitter.