Zion a Game Time Decision for Pelicans' Opener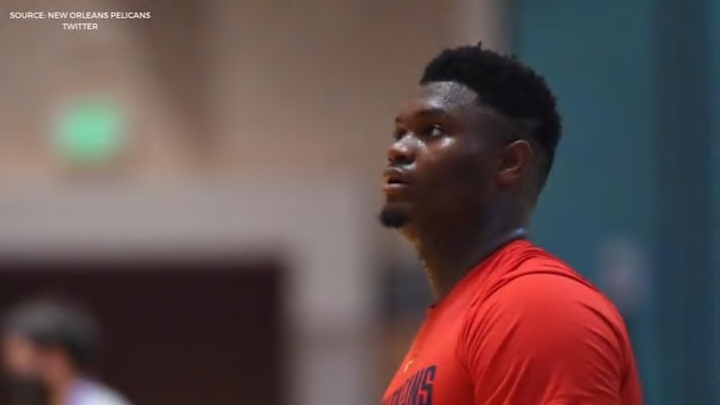 New Orleans Pelicans rookie Zion Williamson is a game-time decision for the opening game of the NBA restart on Thursday, coach Alvin Gentry said on Wednesday afternoon.



Gentry said the medical team will ultimately decide whether Williamson -- who was away from the team for 12 days due to a family medical emergency and his four-day quarantine -- is ready to play against the Utah Jazz.
"Obviously as a coach you want him out there as much as you can possibly have him out there," Gentry said. "We have guys that are better equipped to make those decisions than I am from a health standpoint and a minutes played standpoint. It'll be collectively something that's done by sitting down and talking about it and figuring it out if he does end up playing."
Williamson addressed the media for the first time Wednesday since he left Orlando on July 16 and said he just wants to play, but recognizes the risk at hand. "I think me and my team are gonna look at what's best for me, my future, and being safe," Williamson said. "If you know me, I wanna hoop. That's just how I am; I'm never gonna change. I'm gonna want to hoop, simple as that."



Williamson declined to go into detail about the family medical emergency, just saying it was something he talked over with his parents and family about the decision to leave and the timing on coming back. Needless to say the sparse communication has had its effects on updated odds, lines, spreads, and the like. Once he did return to Orlando, he was quarantined in a hotel room for four days as he tried to balance getting ready to play while having to stay in his room.
Zion needs to play, period.
Got a story or tip for us? Email Sports Gossip editors at tips@sportsgossip.com
Want More From Sports Gossip?
For all the latest breaking Sports Gossip, be sure to follow SportsGossip.com on Facebook, Instagram, and Twitter.